I was watching 48 hours today (the news program, not the Eddie Murphy comedy) and it says something about a marine who married a Princess/Sheika from Bahrain and then whisks her out of the country.I think middle eastern chicks are really hot so of course I tune in through the commercial break.
So it turns out this marine is a Mormon, and a colossal prick. While you're watching you see what a sentimental dope this guy is, reading greeting cards he had sent Meriam, etc. I could tell she thought this guy was a total creep she just wanted out of Arabia. Let me clarify that this chick wasn't some scared little arabian coquette, before or after leaving Bahrain. She spoke english perfectly and seems like she really likes getting into mischief (I can tell this by looking at a picture or video, if you're considering a woman for marriage send me in a pic and i'll tell you).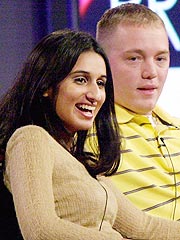 I'm keep watching this story unfold (48 hours takes the slow boat to china in telling you a story) and while Meriam isn't totally my type (she's a little bottom heavy and top light; pear-shape would be the nice way to say it) she is pretty frigging good looking. By this point i'm super pissed and then it says in a faux-sad voice "Meriam and Jason had gotten divorced"  because of pressure from her family and that she had "plunged into the Las Vegas Nightlife". Man, I would've liked  to plunge into the Las Vegas nightlife with Meriam.
If you're reading this, and you're Meriam, or any other Middle Eastern babe and you want to run off with an American guy, I guarantee you your parents would be way more pissed if you ran off with me than with some square mormon marine.
Also let's give a round of appluase to dbag Jason Johnson for yet another embarassing loss in the war on terror and the US reputation in the Middle East.
MIddle Eastern Guy: My friend, those weak Americans cannot even keep their women out of las vegas nightclub. She probably dance with chocolate face basketball man on regular basis ha ha.
Random Posts